How to buy …
All artwork with size in inches is available at following prices, most artwork can ship within 1 – 2 days.
10″x10″ $199
16″x20″ $637
20″x20″ $799
32″x40″ $2,550
Including packaging and shipping within Canada.
Delivery outside of Canada: a shipping and insurance charge will be added to the above totals. You are responsible for all import taxes your country may charge.
This website is not yet setup for one-click sales, please click on the Contact menu button and send me an email with the title of the image you like, I'll respond quickly. I accept credit card via the Square application, or Paypal.
Limited edition
All artwork is single issue, or limited edition of 1. Other than this website and my own promotional work, you will own a unique original, forever. This is unusual in photography, but the work is unusual and "fine art" definition is universal whether painting, drawing, or photography.
What is your medium, are these oil paintings?
It's all photographic. As my byline says, I composite a high number of different photographs of different models. It is true that there is an oil painting resemblance in the texture of the intense colours, but it's all photographic. I used to oil paint, it's a wonderful medium, especially loved doing life size large canvas, so maybe some oil painting sensitivity comes through into my photographic work.
How did you get started?
1985 I was living in Vancouver Canada and saw a photo spread in a province of British Columbia tourism magazine. The photographer was doing high multiple exposure photography, in camera on film, of flowers. Floral photography is very common but these were exquisitely beautiful and impressively creative.
I experimented with the same technique and floral subject. In camera multiple exposure photography was fairly common back then, exposure compensation is an easy calculation, log2n, but high multiple exposure compensation is extremely difficult as light and film sensitivity is so variable over short periods of time. Failure rate was very high from a 36 exposure film roll, but occasionally results were impressive, creating intense pastel colours.




How long does it take to make each image?
1 – 2 days frequently, I've spent 1 – 4 weeks on some composite images as I could see potential but the high multiple composite was fighting me to reveal itself either through colour or balance.
Will you do a private commission?
No. I have too many ideas of my own. Also, usually a private commission means my high multiples style adapted to images of one person; I have tried this but the resulting composite usually results in a nonspecial, blurry image or just bad photograph.
Are you in any of the images?
No. I do not photograph children, nudes, or myself. No children as this is a response to the reactionary times we are in. No nudes as this is extremely difficult to do anything new, a complete dedication is required, and others are better at it than I am. And not myself as I'm only one and individual model photographs are tubes of paint to me, I consume a lot of them and therefore require different models in different environments.
What is a Lightjet print?
Lightjet is just a commercial printing service available from fine art print companies. It's an RGB laser image onto photosensitive paper that is then developed with standard photographic wet chemistry. Lightjet is particularly good for deep, rich colours and it is permanent.
What are you using to mount the prints with?
I use a custom mounting system, designed and fabricated in Canada by pier design, that is absolutely permanently rigid and is guaranteed lay flat. The artwork print is back face panel mounted, no frame or glass, and when hung appears to float beautifully on your wall.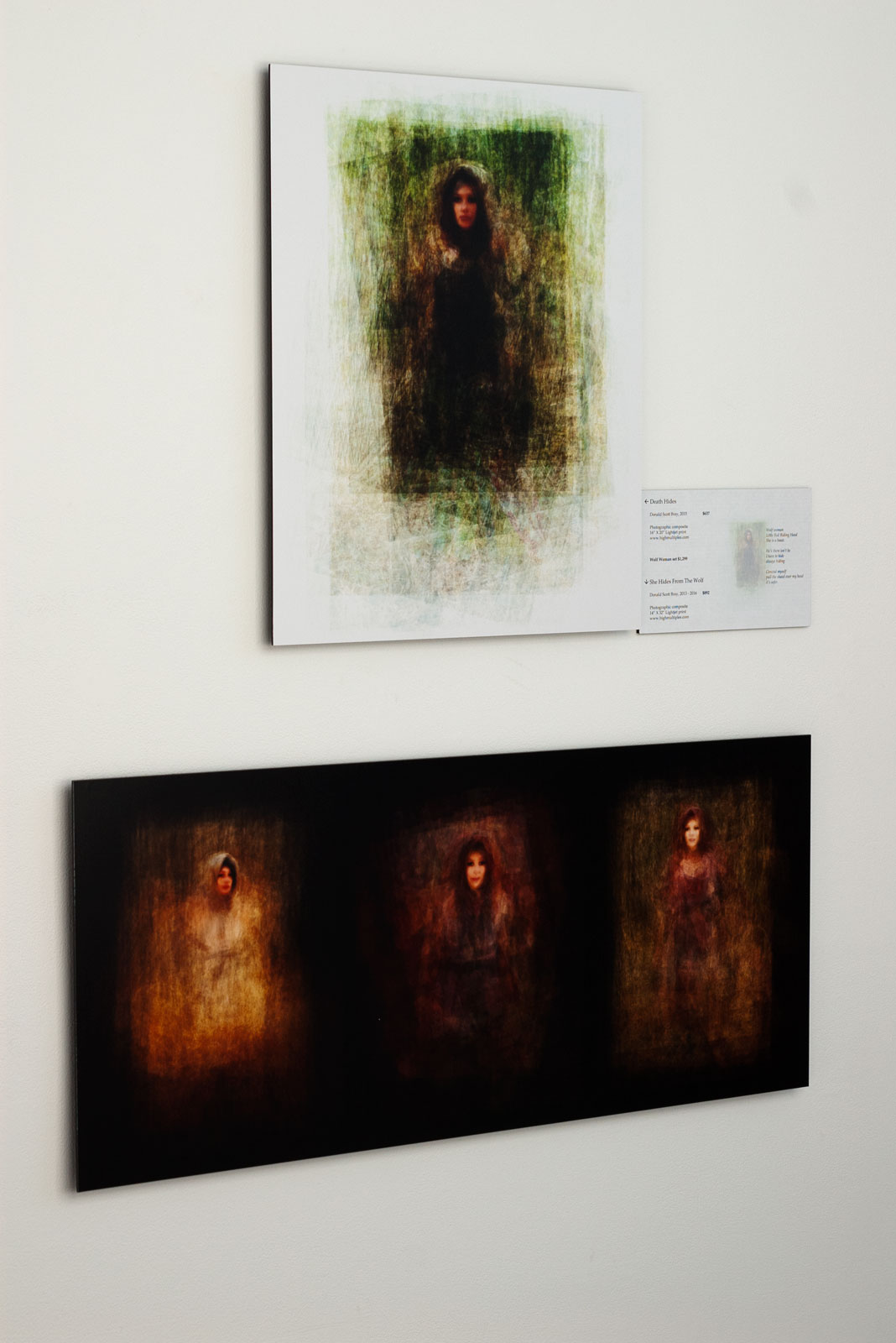 It features a 1/8″ solid aluminium black anodized plate, professional 3M laminating adhesive, and ultra strong backer bars with 5 different hanging methods attached with stainless steel hardware. The backer bars include large flat rubber grommets to ensure no wall damage and no vibrations from loud noises.